Products to help with social distancing
Protocol want to help you create safe spaces for workers and guests while better utilizing space both inside and outside venues. We work closely with selected manufacturing partners who have specially designed strategies that illustrate practical solutions to make everyone feel safe.
We have listed some products below which advocate social distancing and conviviality, allowing you to refurnish spaces in the best possible way whilst maintaining and controlling safety perimeters.
Download PDF for full collection and product specifications.
Mario Screens
A modular system for creating screens for indoor and outdoor use. The Mario allows the creation of private zones to isolate tables in hospitality environments, ensuring social distancing is maintained. Constructed from galvanized steel, the Mario is available in various versions including with metal, transparent, patterned, upholstered and tapiz screens.
Paradiso Divider
A divider that is ideal for creating secluded spaces for both indoor and outdoor. Available in 3 different heights with a removable cover and the option to incorporate planters to improve the appearance. Made of galvanized steel.
Arena Divider
A divider that is ideal for creating secluded spaces for both indoor and outdoor. Available in vertical and horizontal versions. Made of galvanized steel.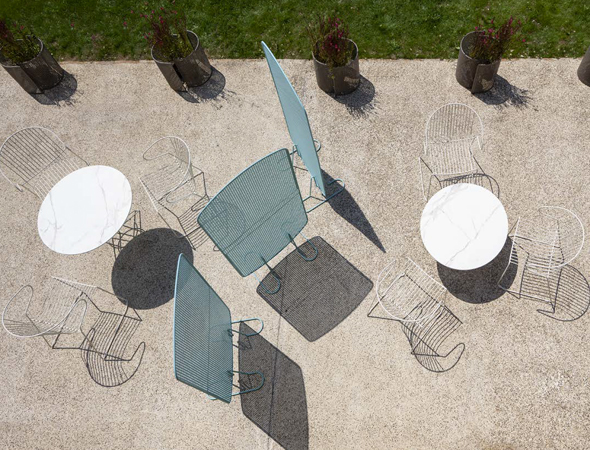 Abelio Separator
Multi-purpose product allowing you to separate your dining sets by minimising their spacing, without obstructing the passage and guaranteeing your guests' safety. It adorns space without making it seem heavy, thanks to its transparent plexiglass panel. Its asymmetrical shape, symbolizing a tree, brings a decorative touch to your outdoor space.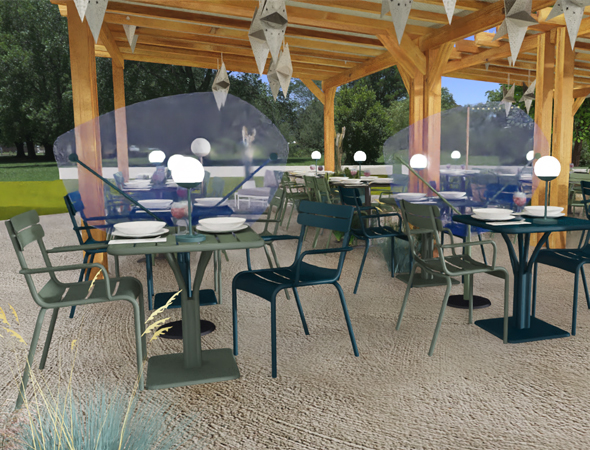 Nautick Separator
A simple system with posts to be set in soil or sand, to delimit intimate spaces and ensure that your customers are properly spaced. The triangular shape of the fabric calls to mind the nautical world. Simple construction with easy to clean Batyline fabric.
Coucou Gel
A hydro-alcoholic gel dispenser that can be operated with a foot pedal. Featuring an aluminium frame and steel foot, the Coucou is available in a range of colours to brighten up spaces. The dispenser is supplied with a gel container (1 litre).
Desk Split
The perfect desk divider with sound-absorbing features both front and back. With internal air gaps, the honeycomb cardboard core captures sound waves, helping reduce sound transfers from other workstations or even from people working closely together. Ideal for dividing a communal table and creating private and individual workstations.
Buzzi Home
Specifically designed so you can create a small, temporary office for focused work, with the home high as a screen to hide any visual clutter that may appear in the background. Made from felt with velctro strips, it can be easily folded and stored taking up minimal space.
08/06/2020